Geoffrey Rush tackles King Lear with Sydney Theatre Company
Geoffrey Rush mimes cracking open and swallowing a raw egg. His Adam's apple bobs up and down, his long neck undulates. It opens a window in time: the 64-year-old actor, in his smart mauve jacket, wild peppery tufts of hair forming a spiky corona, is suddenly his skinny, jittery, stooped younger self facing British acting great Warren Mitchell with a handful of cracked eggshells on opening night of King Lear at the Queensland Theatre Company in 1978.
Rush was playing the Fool to Mitchell's Lear; watching in the audience was a 16-year-old schoolboy called Paul Galloway. In a Currency Press interview later in life, Galloway, a director and playwright, would write: "Rush impressed me not long after his entrance when he told Lear that if he had an egg, he would give him two crowns. 'What two crowns shall they be?' asked the King … Rush produced a real, fresh egg and, cracking it on the throne ('Why, after I have cut the egg i' the middle and eat up the meat …'), leant back and poured the contents into his open mouth, swallowed, and — the barest pause — finished the line holding the two eggshells: '… the two crowns of the egg'. It seemed to my young self that this raw-egg-­eating business revealed an exceptional dedication to the art. I am not surprised that Rush went on to have a successful career."
Rush, perched on a stool at the Wharf in Sydney (where he will play Lear for the STC from this weekend; the season is almost entirely sold out), flashes a neat line of big, tombstone teeth. "I cracked it into my hat, actually, and then ate it. The audience each night would go 'Ewwww' but you know … meh."
Rush, one of only a handful of actors who have won acting's triple crown — a Tony, Emmy and an Oscar — has been pushing that extra unpredictable inch all through his career: stuffing ferrets down his trousers, stripping naked on stage, shaving his head to play a madman, dressing up like a geisha for a magazine shoot ("I looked like an ageing Japanese lesbian," he would later tell Andrew Denton).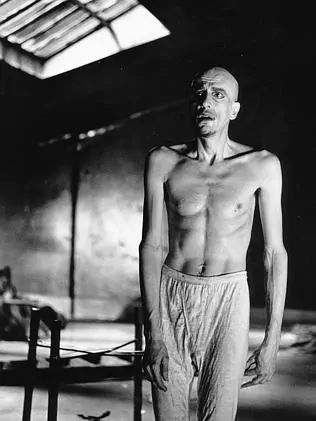 In The Life and Death of Peter Sellers, he stuck on fake body hair for sex scenes with Charlize Theron. In Pirates of the Caribbean: On Stranger Tides, he seriously considered taping his leg up and wearing a wooden peg leg for the entire shoot until an amputee prosthetician kiboshed the idea as far too ambitious. So what's a raw egg or two between friends?
Directors have observed how the diligent Rush obsesses over the tiniest details on set or stage: buttons, wigs, his fingernails, his hair. This keen researcher's eye will stand him in good stead next month in his debut in the so-called Mount Everest role of acting, King Lear, in Neil Armfield's new production for the Sydney Theatre Company. Rush leads a blue-chip cast spearheaded by Robyn Nevin as the Fool (a role Rush reprised in 1988 opposite John Gaden). It will be his first return to the STC stage since 1993's Oleanna opposite Cate Blanchett.
It's lunchbreak in week three of rehearsals and we're chatting in a glass fishbowl of a room on the harbour at the STC's home base. Rush orders only a sparkling mineral water: "I've had a big bowl of fruit," he tells the young waitress. He looks drained. The morning has been spent mapping the second half of the play, wrestling through acts four and five as Lear stumbles through an apocalyptic world ravaged by "the malice of daughters and storms", as 19th-century critic Charles Lamb put it. Afterwards, there's a hair and make-up shoot to be endured.
Shakespearean portents are everywhere for the actor. Looking around, he waves those long knotty fingers (an observer at a Hollywood lunch once said he had the "loveliest hands in the business"), and, in the slow, orotund cad­ences of a tent revival preacher, describes a biblical storm that came boiling off the harbour at this very spot recently.
"The sky turned pea green and it was like the Red Sea about to open in The Ten Commandments, and then the wind came up, and the plastic awnings came off, and papers and cutlery and pillows and everything went everywhere." His arms whoosh like windscreen wipers. So, very Shakespearean, then? "Oh yes. Because just before this we had been doing our initial work on the storm scene." His eyes open wide.
It's a treat to watch Rush close up. There's that extraordinary chameleon face, rubbery, mobile, elastic: with a squint of an eye, a scowl, a grin, he becomes Hector Barbossa, the Marquis de Sade, Lionel Logue, all those big, meaty, marquee roles he's famous for. He has busy, restless fingers that sometimes appear to be clasping a phantom cigarette ("I am pleased to say I am an ex-smoker," he confirms to me later). Seemingly of their own volition, these digits fly through the air, narrowly missing his waterglass as they punctuate stories that, in their telling, transform him from a sly old geriatric to an Old Testament patriarch to a weasel-faced impresario. (He once remarked, dismayed, that he looked like "a prematurely born embryonic stoat" in the film Hoodwink.)
For all its bumps and knobs — he's bemoaned his "inherited, slightly bulbous Teutonic nose", among other things — it's a good face. It's paired with a walk that is as distinctive as a thumbprint. He ambles into the room with a loose, below-the-waist roll, hips swivelling on ball bearings, slightly off the vertical line, as if he's facing a strong wind: with his own sense of heightened physicality, it's easy to see why he's drawn to Looney Tunes, Preston Sturges films, Chaplin.
Also singular is that voice: deep, theatrical, full of italics and interrogatives: "Do you know what I mean?" he drawls at regular intervals as we wind our way through motley topics: Russian fascism ("an actor friend of mine says to me that 'despite the revolution, in this country we still love Papa' "), Joseph Ratzinger's abdication as Pope ("did he drop his bundle?") the spikes and peaks of mania, the curious similarities between Oscar film nominations ("This year they're saying that it's all about visionaries, people surviving, whether they're on Mars or working at Apple, but you know, no one goes to meetings in Hollywood and creates the zeitgeist.")
Interestingly, Rush has synaesthesia, where language has colour. You wonder what rainbows he has been seeing as he has practised his trochees and spondees in iambic pentameter drills with his Pirates voice coach in preparation for Lear: with its spiralling mad arias and rants, Lear is a big mouthful. "Thank god Shakespeare wrote in rest places."
He's a dab hand at it now — from time to time he lets loose perfect clusters of verse — but it wasn't always so: he laughs as he recalls a stinging encounter with Jim Sharman when rehearsing one of Oberon's speeches in a production of A Midsummer Night's Dream in 1982.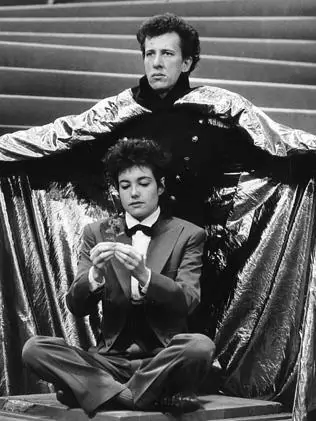 "Jim said" — he puts on a droll voice — "ah yes, Geoffrey, good. But can we now have less of the suburban king of the fairies, please?" A nasal Toowoomba twang makes a sudden appearance. He grins. "It was great, I really respected him for that because that was like, get that lousy version out of your system. It insulted you into taking a more dangerous leap."
For Rush, Shakespeare lies deep in his acting marrow, from early character roles in Troilus and Cressida and Twelfth Night, to directing The Merry Wives of Windsor (brilliantly, it seems: a critic anointed Rush "as among the intelligent risk takers of Australian Shakespeare, along with Jim Sharman and Neil Armfield"), to a mighty performance as Horatio in Armfield's seminal 1994 production of Hamlet at Belvoir.
Shakespeare circles his film work, too, from playing Philip Henslowe in Shakespeare in Love to his role in Fred Schepisi's film of Patrick White's The Eye of the Storm, where he played failed actor Basil, whose biggest stage flop was Lear ("I hope it's not an omen," he mutters).
This long association was observed by no less than pianist David Helfgott, whom he played in Shine; on meeting him, a delighted Helfgott reportedly said: "Ah Geoffrey! Great Shakespearean actor. Great Shakespearean actor."
But Lear is a different kettle of fish. If Hamlet is the hoop all young classical actors have to jump through to prove themselves, then Shakespeare's mad, bad regent is the older actor's testing ground. It's notorious for its many demands. Lamb famously proclaimed it "unactable". It's felled many a giant of theatre, including Laurence Olivier. Anthony Hopkins reportedly once said his idea of perfect pleasure was not to play Lear. Ralph Richardson ran away from the role all his life.
In director David Hare's view, no actor can adequately play all 11 of the scenes that Lear features in. Rush is well aware that one of Lear's huge challenges is the sheer variety of the emotional terrain it covers from start to finish: the fury of the raging despot, the fickle vanities of an ageing father, the bitter self-knowledge of the terminally wounded. Actors often fail to strike the right note — or the full spectrum of notes; Louis Nowra once said John Bell's Lear suffered from the actor being "too guarded — suspicious, perhaps, of the existential terror" that defined the character. Gaden's "Beckettian codger" lacked majesty, according to critic Murray Bramwell.
But, Rush asks, who is to say there's an ideal Lear? If he's learned anything from his stints opposite Gaden and Mitchell, it's that no such beast exists. After all, Shakespeare's crazed monarch himself struggles to pinpoint who he is: "Who is it that can tell me who I am?" is the play's great plaintive cry.
He likes Paul Scofield's powerful, raging silverback king in the Royal Shakespeare Company's benchmark 1962 production, Ian Holm's more humane, emotional monarch in the 1997 National Theatre production ("It was the first time I'd noticed that the moment when Edmund comes into the second scene, he's the worm that starts crawling through the apple" — his finger does a caterpillar crawl), and last year's stellar portrayal by Simon Russell Beale of Lear as a Stalinesque tyrant.
His Lear will be his own, perhaps a more fragile, porous, nuanced version. "A lot of Lear is a release of righteous anger, tantrums, rage, threats, crippling self-doubt, transcendental kind of realisation, it's very strong stuff, mentally, but [you don't want ] to fall into the trap of feeling you have to barnstorm, give people a big dramatic bang for their buck."
He's carefully navigating everything from Lear's delicate balance of tragedy and farce to the play's perceived misogyny: "There are understandably many feminists who loathe this play, and I can understand why — there are some horrible, horrible speeches." His voice drops to a sinister growl: "Into her womb convey sterility! Dry up in her the organs of increase; and from her derogate body never spring …" He pauses. "It's not the best parenting technique around, sure, but it's simply an expression of Lear's own self-loathing."
In the 1990s, Rush suffered acute anxiety that led him to turn down the role of Hamlet in the Belvoir stage classic. How are the stress levels as he seeks to find handholds and footholds with Lear? It's a bigger peak, after all. As he says, Hamlet, though longer, gives actors crucial time to build a rich, engaging world; it's also linear in a way that Lear isn't, with the mad king coming on and off at unpredictable intervals. The anxiety has been "fine, I suppose because I've around the play twice before now and seen how people have done it".
He pulls a face: "When people go, it's the Everest of acting, or unactable, well, every play can be unactable. You have to be aware of all of this, but you go, OK, Wednesday and Saturday are going to be demanding because you're doing it twice in a day." Still, chatting like this — he gestures around us — "can be therapeutic because you can talk out loud your greatest fears and anxieties."
At 64, he says, chuckling, he's finally the right age to play Lear, though he's aware of one of the maddening ironies often cited of the play: when you're finally the right age to play the role, you're usually too tired. But perhaps there is no right age. He points to Gaden, who first played Lear at 26: "He told me recently that 'I did some of the best stuff I've ever done in it the first time round because I had the vigour and mental alertness.' "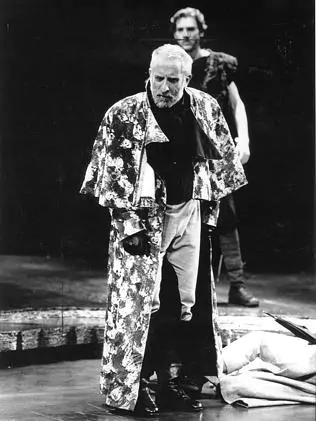 For all of Lear's minefields, Rush exults in its richness, from the layers of "folklore and backstage gossip" and tradition that have calcified around it like an oyster shell (he likes British actor Donald Wolfit's description of it as an "eight pint of Guinness role"), to its ambitious scale. It is an exploration of the world as well as the individual, government and family, with all these spheres dramatically up-ended by "the great chaos of the wheels falling off since Lear's abdication". Sweetening the package is its grand writing: "It's the greatest play in the English language."
He has been mapping its "ingenious" dramaturgical webs, mining choice bits of verse, chewing them over. "Every day I've found something where I go, my god. People used to say it's so messily written, but I think it's meticulously engineered. There are motifs like in Wagner — the word nothing comes up 48 times … and there are other images about embryos, about wanting to crack nature's mould and spill all the seeds that make humanity" — he drops his voice to a husky whisper — "then there's the 'never, never, nevers' — it's the most perfect iambic pentameter line ever written. Never, never, never, never, never. This person is dead, dead, dead, dead, dead." He beats a soft tattoo on the table between us. "He's confronting that. These images leap out at you."
He's intrigued, too, by the play's political context. Perhaps its relentless blackness (so horrifying to audiences that Shakespeare's version was replaced by Nahum Tate's reworked "happily ever after" staging that reigned until 1838) derives from the volatile times in which it was written (some time between 1603 and 1606). "It's fascinating because it's a pretty subversive play about how f..ked up power bases can become and this is soon after the Gunpowder Plot. This is the year of terrorism, of people going to blow up parliament."
Interestingly, Lear has been widely regarded as Shakespeare's greatest tragedy — unseating Hamlet — only since the 60s, when it took on a certain resonance in the light of the atomic bomb and postwar global conflict. Rush says the turning point came when director Peter Brook read an essay by Polish literary scholar Jan Kott that compared Lear to Beckett's Endgame. Lear, he says, grinning, is like a "medieval House of Cards box set", with Kevin Spacey as Gloucester's wily bastard Edmund. "It's a political thriller … a great wheel is steaming out of control in a world that is jittery and out of balance. There's a kind of shock wave felt."
As we wind up, a thought strikes. In one of those strange quirks of life, it seems the universe has been leading him gently by that bulbous Teutonic nose to Lear. Fathers and daughters have been a curious recurrent pattern in recent times: "There are certain connections there with Lear, accidental but interesting. This year my daughter worked with me on the last Pirates film — she got a great secondment in the costume department, she's been studying fine arts, and then Simon Stone's The Daughter came out, and then this came up." He pauses. "It's sort of helped me think a bit more immediately about fatherhood."
What then, as a parent, has he learnednotto do from Lear? Don't throw hissy fits at your kids? Or make snap decisions about the family inheritance in a vain rage? He cackles. "Yes, or tell your daughter 'I hope somebody kicks your womb out.' That's not good."
King Lear opens at Sydney Theatre Company on November 28.


Reader comments on this site are moderated before publication to promote lively and civil debate. We encourage your comments but submitting one does not guarantee publication. We publish hundreds of comments daily, and if a comment is rejected it is likely because it does not meet with our comment guidelines, which you can read here. No correspondence will be entered into if a comment is declined.